Thank You Santa Barbara!
Thank You for joining us for the HOKA ONE ONE State Street Mile in beautiful downtown Santa Barbara. This unique event features a fast, gradual downhill race with something for everyone (and every dog!) who runs, walks or jogs.  Events include:
Awards will be given in every category. Registration starts at 7:00 a.m. at Pedregosa and State Street in Santa Barbara. All proceeds go directly to the Crime Victim Emergency Fund.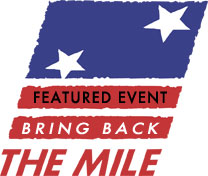 The State Street Mile is a SBAA Grand Prix and Junior Grand Prix event as well as a Bring Back the Mile Featured Event, showcasing the best Miles in America and throughout the year.
---
More details…

The day kicks off at 8:00 a.m. with the 7 age group categories—14 and under, 15-19, 20-29, 30-39, 40-49, 50-59, 60+. This is followed by the Family Mile, the Elite Miles, and capped off with the not to be missed, tail wagging fun, Dog Run & Walk.
All events start at approximately 10 minute intervals, except for a 20 minute interval between the Family Fun Mile and the Elite Miles allowing all runners/walkers to be off the course prior to the Elite events. Allow some flexibility as your event could start slightly off this described schedule.
---