Thank you to everyone who participated in the 2016 HOKA ONE ONE State Street Mile!
Thank You for joining us for the HOKA ONE ONE State Street Mile in beautiful downtown Santa Barbara. This unique event features a fast, gradual downhill race with something for everyone (and every dog!) who runs, walks or jogs.  Events include:
Family Fun Mile
Platinum Performance World Championship Dog Mile
9 Age Group Categories from 14 & under to 60+
**NEW in 2016!** Nobbe Amputee Mile (Above and below the knee divisions with cash prizes to the top 3 finishers in each category – $1000 prize purse)
Open & Master's Elite Mile ($5700 Prize Purse Available)
Contact the Race Director via email for Elite entry inquiries.
Awards will be given in every category. Registration starts at 7:00 a.m. at Pedregosa and State Street in Santa Barbara. All proceeds go directly to the Crime Victim Emergency Fund.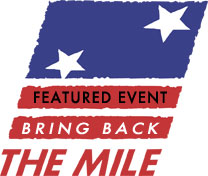 The State Street Mile is a SBAA Grand Prix and Junior Grand Prix event as well as a Bring Back the Mile Featured Event, showcasing the best Miles in America and throughout the year.
---
More details…

The day kicks off at 8:00 a.m. with the 9 age group categories—14 and under, 15-19, 20-29, 30-39, 40-49, 50-59, 60+. This is followed by the Family Mile, the Elite Miles, and capped off with the not to be missed, tail wagging fun, Dog Run & Walk.
All events start at approximately 10 minute intervals, except for a 20 minute interval between the Family Fun Mile and the Elite Miles allowing all runners/walkers to be off the course prior to the Elite events. Allow some flexibility as your event could start slightly off this described schedule.
---